Environmental Justice in the Amazon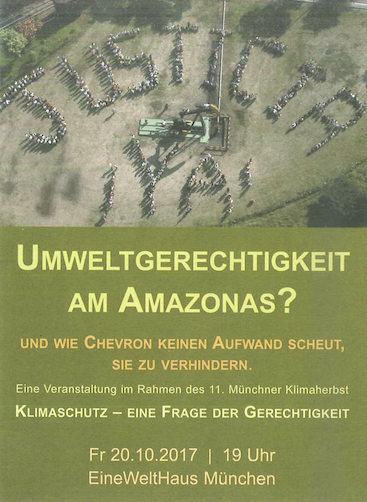 Environmental Justice in the Amazon? ... and how Chevron spares no effort to prevent it.
Maximilian Feichtner (member of the "Hazardous Travels" research Group at the Rachel Carson Center) and Christian Lahnstein (former Munich Re) talked about the issue of Environmental Justice in Ecuador at the 11th Münchner Klimaherbst.
The litigation between 30.000 inhabitants of the Ecuadorian rainforest and Chevron lasts for more than 25 years. The oil corporation caused environmental contamination due to negligence and outdated technology over the course of decades. The consequences of that pollution lie at the heart of the exemplary liability trial.
Clips of the documentary "Stimmen Amazonies" (Voices of the Amazon) complemented the two speeches and the lively discussion. The event was organized by working group on Latin America of the Nord Süd Forums München e.V. and took place in the EineWeltHaus München.
*** Deutsche Version***
Umweltgerechtigkeit am Amazonas? ... und wie Chevron keinen Aufwand scheut, sie zu verhindern.
Maximilian Feichtner (Mitglied der "Hazardous Travels" Forschungsgruppe am Rachel Carson Center) und Christian Lahnstein (früher Munich Re) sprachen im Rahmen des 11. Münchner Klimaherbst zum Thema der Umweltgerechtigkeit in Ecuador.
Schon über 25 Jahre dauert der Rechtstreit zwischen 30.000 Bewohnern des ecuadorianischen Regenwaldes und Chevron. Der Ölkonzern hat über Jahrzehnte hinweg durch Fahrlässigkeit und veraltete Technologie Umweltschäden verursacht, deren Folgen Gegenstand eines exemplarischen Haftungsprozesses sind.
Ein Ausschnitt aus dem Film "Stimmen Amazoniens" ergänzte die beiden Impulsvortrage und die
Diskussion. Die Veranstaltung wurde vom Lateinamerika-Arbeitskreis des Nord Süd Forums München e.V. organisiert. Veranstaltungsort war das EineWeltHaus München, Schwanthalerstraße 80 im Kleinen Saal 211-212.